Webinar – Tuesday 15 February 2022 at 6pm: Nonviolent action in a context of renewed war in Western Sahara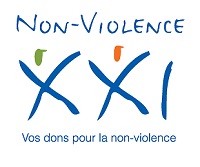 Webinar – Tuesday 15 February 2022 at 6pm: Nonviolent action in a context of renewed war in Western Sahara
5 February 2022
Comments Off

on Webinar – Tuesday 15 February 2022 at 6pm: Nonviolent action in a context of renewed war in Western Sahara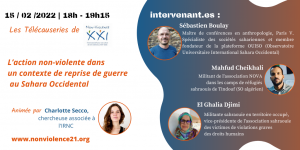 "A webinar to highlight a largely forgotten conflict!
co-organised by
Non-Violence XXI and the Observatoire universitaire international du Sahara Occidental (OUISO)
Programme: "Non-violent action in a context of renewed war in Western Sahara"
After three decades of ceasefire in Western Sahara and the expectation that the United Nations (MINURSO) would organise a referendum on self-determination, the war (1975-1991) between the Sahrawi Arab Democratic Republic (SADR) and Morocco for the control of this territory resumed in November 2020. It is in this context of military escalation and regional diplomatic tensions that we wish to draw attention to the non-violent struggle initiatives that have developed in Western Sahara since 1991 and their place today in the search for solutions to the conflict.
Interventions (45 min)
*Charlotte Secco (Non-Violence XXI): Introduction to the debates (5 min)
*Sebastien Boulay (OUISO and University of Paris): Presentation of the conflict, its contemporary issues and the different forms of non-violent struggle that have developed in Western Sahara (10 min)
*Mahfud Cheikhali (NOVA association, Saharawi refugee camps, SW Algeria): objectives, current events and difficulties of NOVA in the promotion and implementation of non-violent actions (10 mn)
*El-Ghalia Djimi (ASVDH, Saharawi Association of Victims of Serious Human Rights Violations, occupied territories): non-violent action in the Moroccan occupied territories of Western Sahara (10 mn)
*Charlotte Secco (Non-Violence XXI): Relevance of Civil Peace Intervention (CPI) in Western Sahara (10 min)
Debate with the audience (30 mn)
—-
To register for the teleclass, please follow the link below:
https://zoom.us/meeting/register/tJEudOCprTsiGtXDE7GfX7DLOCgrXGHOVjIe
After registering, you will receive a confirmation email with instructions on how to join the meeting.
Please connect at least 5 minutes before 6pm.